Introducing the GM Bus
Mission:
Our mission is to educate, inform and evolve the crypto narrative by visiting IRL communities and events around the world.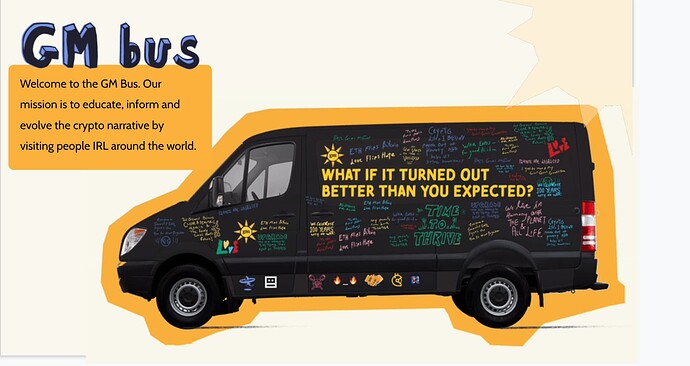 Relevance
Being able to have conversations live will infuse local participants of DAOs to join and connect with the existing resources available through our sponsor portals.
Shifting the conversations from global speculation opportunities towards the power of global network connections and how to increase the opportunities for cross border collaborations.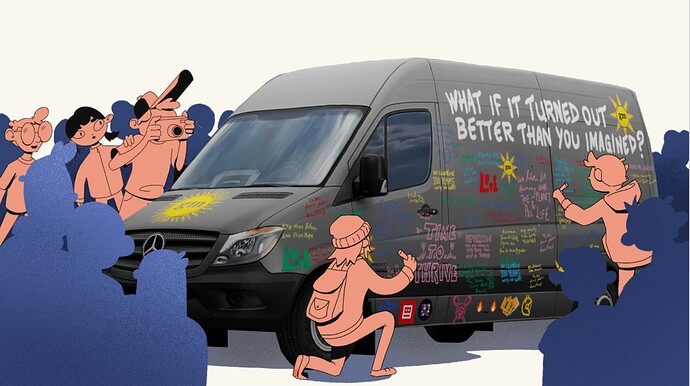 Partnerships
We are partnering with 10 aligned communities (max) that are providing a valuable entry point for mainstream users to enter the web3 ecosystem, DAO's, NFT collectives, and education platforms will be key participants of the network.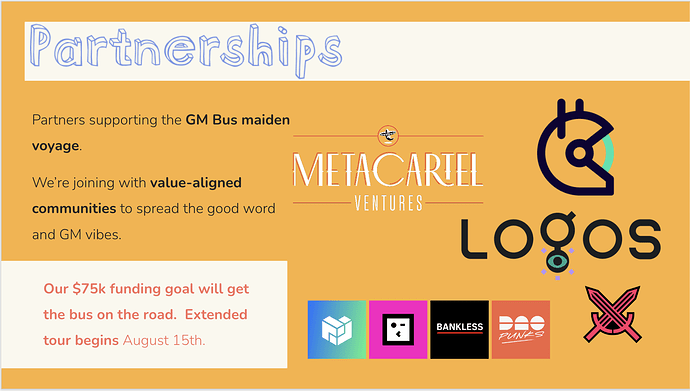 Value Add to Metafactory
Co-branded swag, sponsor and supporter logos minted on the bus and homepage.
Each sponsor gets to choose one event where the GM Bus will appear IRL.
Sponsors receive a pre-minted NFT from the end of Season

#1

, the NFTs are the governance power over where the bus goes in Season

#2

.
By participating sponsors will have first hand affiliation with the conversations, and outcomes of the intentional future of crypto.
Brand recognition and onsite activations.
Team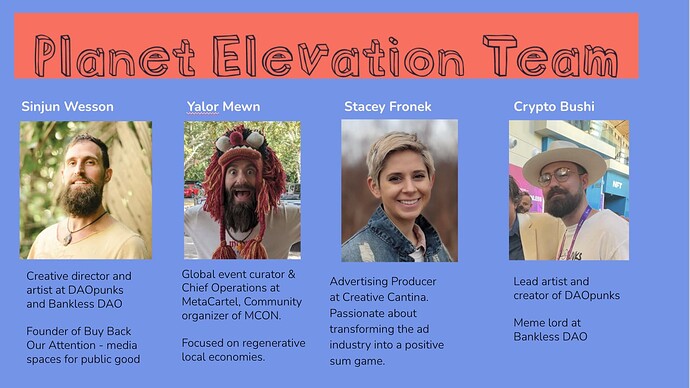 Ask
We are asking for MetaFactory to fulfill the merch and a $5k grant in ROBOT from Metafactory
Design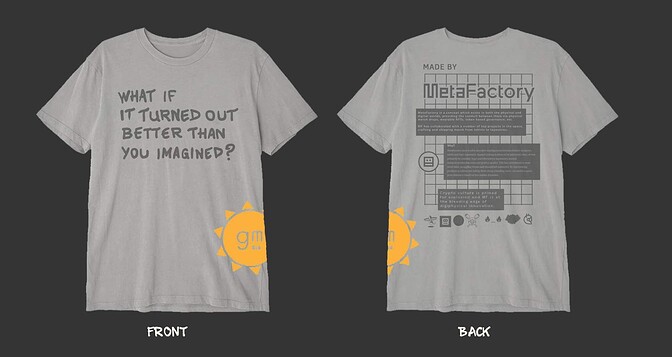 Our merch item will be a screen-printed cotton tee with our season 1 prompt on the front and a full Metafactory feature on the back. This will describe MF's mission and how it works: "permissionless curation", creator-first… This will also serve as an educational device and talking point for whomever wears the shirt.
*Note: This is not the final design! Just a simple 'back of the napkin sketch' to show the concept
The progress we have made so far:
Purchasing the Season

#1

bus, Mercedes 2500 Sprinter.
Complete renovation of the bus interior with sleeping cabin for 3 road crew.
Graphic design and interactive program for Season

#1

deployed.
Partnership confirmed with YAP to handle promotional activities and awareness in local communities across the US.
Here is the pitch deck that is now open for sponsorship applications of the GM Bus 5
Final Thoughts
GM Bus is a one time sponsorship for the lifetime of the bus, not a one time event but a roaming engagement and education platform for the emerging class DAO and Web3 community builders. Your logo will never be removed from the Van, You will always have votes towards where the van goes, you can power up your governance shares by buying more NFTs in each season to ensure the van goes to your desired events, you can even book the bus to bring to an event yourself if the community approves the proposal.
This is a great opportunity for us to influence the narrative around crypto, to engage with potential community members, and seed a new vision for collaboration and open source adoptions