---
tags: Raid
MetaFactory Dashboard
Objectives
Update the design and build the web and mobile front-end for both the MetaFactory Dashboard and Curation Game.
Next Steps
Proposal submitted
Review with MF team
Start on implementation
Timeline
5 - 7 weeks from Escrow/Multi-sig deposit
Requirements
Desktop & Mobile views
Will leverage new V2 pool from iROBOT, when available
Claim Dashboard (User's Profile)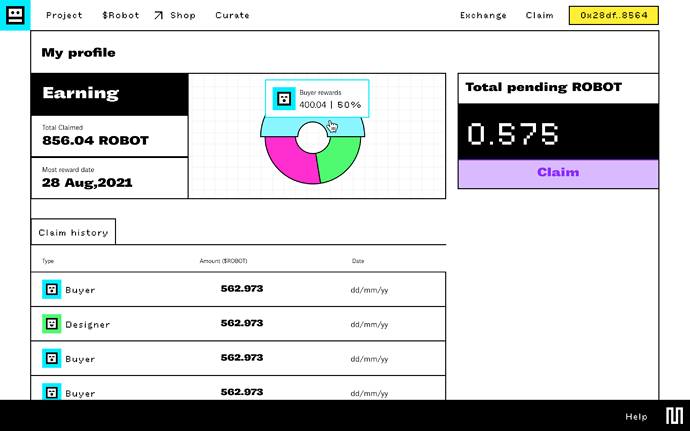 Allow user to claim their $ROBOT (call Merkle contract)
Allow user to see pending $ROBOT to their claim (GH json)
Allow user to view their distribution history
Allow user to know empty state (when the wallet is not connected)
Table of rewards broken down by type (Buyer, Designer, Curation)
Pie graph of rewards by type
Total distributed to user
Most recent month with a distribution
Data
Contracts
Distributions Overview (Not connected)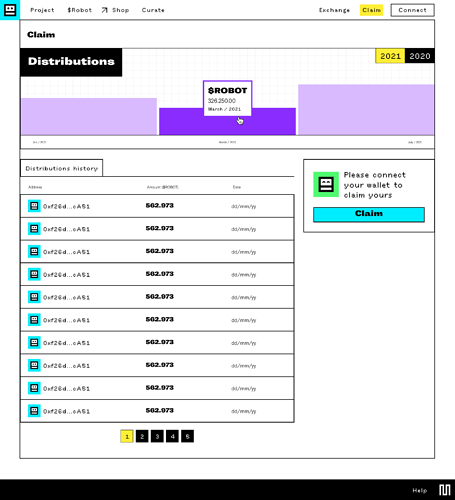 View your distribution history from the platform
View your distribution bar graph
View your unclaimed $ROBOT
This should be a view of aggregate distributions of ROBOT
Data
Exchange Page (Swap/Pool)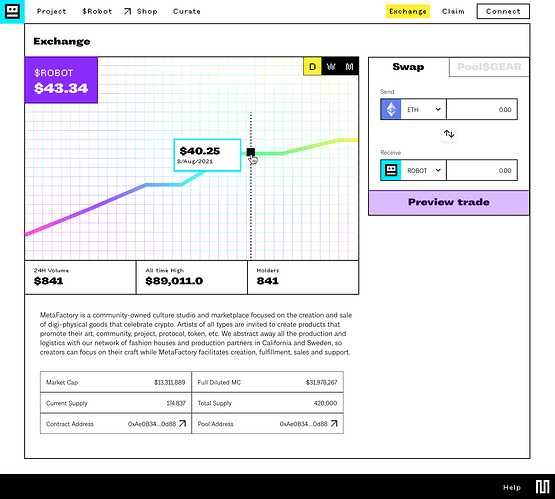 Graph
Intro about $ROBOT, basic statistics (e.g. Liquidity, Volume)
Historical chart
Stats (24h vol, all time high, holders)
Dates filters
Data
Coingecko Price Data for ETH reference price
Swap
Get ETH/Token balance for the user
Get conversion/router configuration for Swap
Allow user to swap token for ROBOT
Pool
Allow user to add liquidity
Additional Questions
Files & Resources
Cost
| Amount | Time |
| --- | --- |
| $2,800 | 16 hours of design work (initial) ~20 hours |
| | Design adjustment (if needed) |
| $25,500 | 5 - 6 weeks of dev work (40hrs/week) ~200 hours |
| $28,300 | Estimated grand total |
Required Resources
UX Designers (Chiali, Sascha)
Front-end Developers (Nickcaputo, midgerate)
Project Manager (Kevin)
Cleric (scottrepreneur)
Agreement
This proposal serves as a deposit to initiate Raid. Additional payment based on accurate scope will be requested later as complexity becomes more apparent.
Verified payment of 50% up front 14,150 DAI and 50% on delivery for the equal amount of $14,150 in ROBOT at the time of delivery into the Raid Guild multi-sig:
0x3C3692681cD1c0F42FA68A2521719Cc24CEc3AF3
We look forward to Raiding, please reach out with any questions or concerns!